Once the kit had been ordered, what about the rest of the timber? The manual gives a very comprehensive cutting list, but you need to decide if you are to do the lugsail version of the Morbic or the sloop version. Being inclined towards simplicity and single-handed sailing, the lugsail version seemed more sensible for me.
I worked through the cutting list, and after browsing the net, I finally settled on Robbins Timber in Bristol. They were recommended to me by another Hornet friend, Tim Coombe, who has a reputation of making exceedingly fine boats – he had recently finished a superb refurb on my Hornet as below. It won the Concours D'Elegance at the Dinghy Show 2013
Having spoken to George at Robbins, I ended up sending the complete list to them, and they put together a complete quote, which saved me a lot of trouble. If you're considering a Morbic build, let me know, and I can send you the final cutting list. It turned out to be very accurate, and very good quality.
The upside was also that I now know what PAR* stands for!
Getting the kit delivered was challenge. I was down in Devon at around the time the kit was ready (I'd put a winning bid on a 10 foot launch on eBay which I had to collect, but that's another story!) so I arranged to drop in and see Alec, on the off chance I would pick up some of the bits. It was pouring with rain, so I thought better of it, but it gave me the chance to have a look at Alec's workshop, which was very impressive. It's amazing how these CNC routers work – stick in a sheet of 8′ x 4′ ply, and press Go!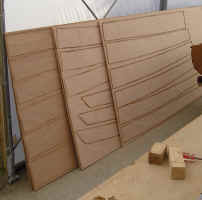 *planed all round
In the end, TNT delivered all the sheet parts on a large pallet, which quickly had to be put in the workshop to avoid the rain. A few days later, another lorry came with the wood from Robbins. No going back now!